On Oct 11th and 12th Box held their annual BoxWorks conference in San Francisco. There were several announcements for users, developers and administrations, but the most significant for my research area of Personal Productivity, Team Collaboration and the Future of Work was the introduction of Box Skills, a set of artificial intelligence (AI) capabilities which can enhance the content stored in Box by automatically adding additional metadata such as tags, sentiment, transcriptions and more.
If you don't have time to read this entire post, here is a quick summary of Constellation's analysis: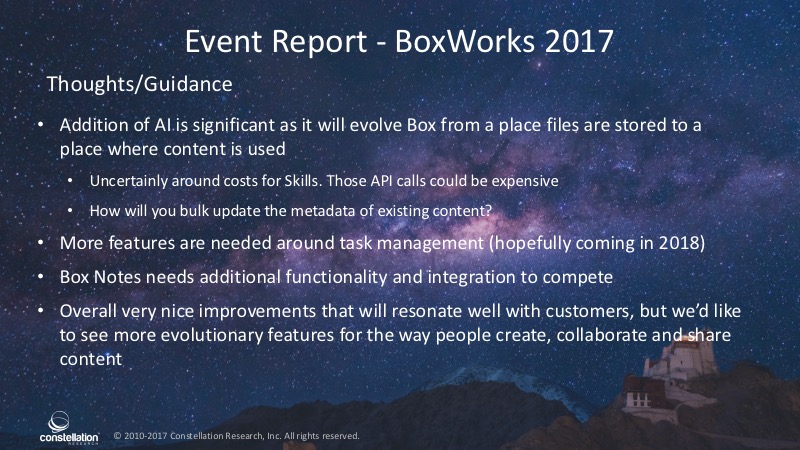 Key Announcements and MyPOV
Evolution of their messaging around "Cloud Context Management"

Box is much more than just Files/Folders: KeySafe, Zones, Platform, Relay, Drive, Notes, Capture, Governance, Insights, …
76K customers, 65% of F500, 100k developers


Box Relay - Workflow product (co-developed with IBM) will be available (price has yet to be announced) for all customers on Nov 13. Box Relay allows anyone to fill out a series of guided questions which then creates the conditions and actions to organize business processes.

Box Files - the core file storage and sharing experience of Box

Enhanced commenting: Threaded comments and the ability to mark a thread as completed
Annotations: Leave comments in specific locations on documents
Versioning: Visually see the key differences between two versions
Presence: You can see who else is currently viewing a document
Tasks: You can assign a task to a person with a date. This is just the start of a larger roadmap for task management
Shortcuts: Create links to files or folders in the left side navigation bar
Integrations with Workplace by FB, Slack, Microsoft Teams. Future: IBM Watson Workspace, Google Hangouts Chat, Cisco Spark
MyPOV: Box has done a good job over the last year or two improving the file/folder experience. However, I would like to see more innovation here, such as enabling content to be organized in ways that break away from the hierarchical "file manager" experience. I would also like to see more intelligence around popular content, recommended content, recent files, etc. I'm pleased to see Box working on tasks, but more work is required in this area to truly make it usable for managing and tracking assignments and status of deliverables.
Box Notes - Box's own word processor/note taking application

Inbox to see documents
Visual differences between versions
Presence
Templates
MyPOV: The addition of a desktop version of Box Notes (the web application wrapped in Electron) was very welcome and should help drive usage of the product. The features of Box Notes lag behind competitive offerings such as DropBox Paper and Salesforce Quip, so hopefully we'll see continued enhancements to Box Notes in 2018.
Box Skills (Beta planned for 2018) – bringing artificial intelligence to content stored in Box.

Images: automatic tagging of content
Audio: transcribing text, keyword indexing, sentiment analysis
Video: everything from audio + facial recognition and indexing
MyPOV: This is the most important announcement of the conference. More details on this significant feature further down in this post.
Box Graph (Beta planned for 2018) – Box has begun working on an underlying architecture that will map the relationships between content and people.

Potential applications: A newsfeed to show top content, anomaly detection
MyPOV: This is a very critical part of the future of Box functionality. Other vendors such as Microsoft, Facebook and Slack leverage their graph to help people avoid information overload, discover content and colleagues, detect patterns and more. Making the API for Box Graph available to developers will be a powerful addition to the Box Platform for creating customer applications.
For Developers

100K+ application developers are now making 12 billion 3rd party API calls/month
New Analytics Dashboard to show API usage
New Box Element: "Open With"
New Training Center / certification
Solutions Gallery to showcase applications
Augmenting Content
The most significant news from BoxWorks (with respect to people and applications interacting with content) is the introduction of Box Skills. These enhancements leverage capabilities from IBM Watson, Google Cloud Platform and Microsoft Azure to add functionality to files stored in Box. The first set of skills Box is developing are for image, audio and video files. The architecture of Box Skills has been designed to be platform agnostic, thus enabling developers to use best of breed AI capabilities from multiple vendors instead of being limited to a single choice. At this time Box has not announced how Skills will be charged for, but someone will have to pay for the API calls being made to the commercial AI platforms. For example, each time an image is tagged, Google will require payment. Box has stated they will make this as frictionless as possible for customers, with more details coming in 2018. Skills are an optional feature, and must explicitly be turned on, so customers don't need to worry about this unless they decide they want to use them. Custom skills can also be developed to meet specific business needs.
Images
The example below shows tags which have been automatically added (via Google Vision API) to the file's metadata which describe the image. Also, any text on an image is scanned and transcribed. I hope similar functionality will be available for presentations, enabling people to easily find files based on the content in specific slides.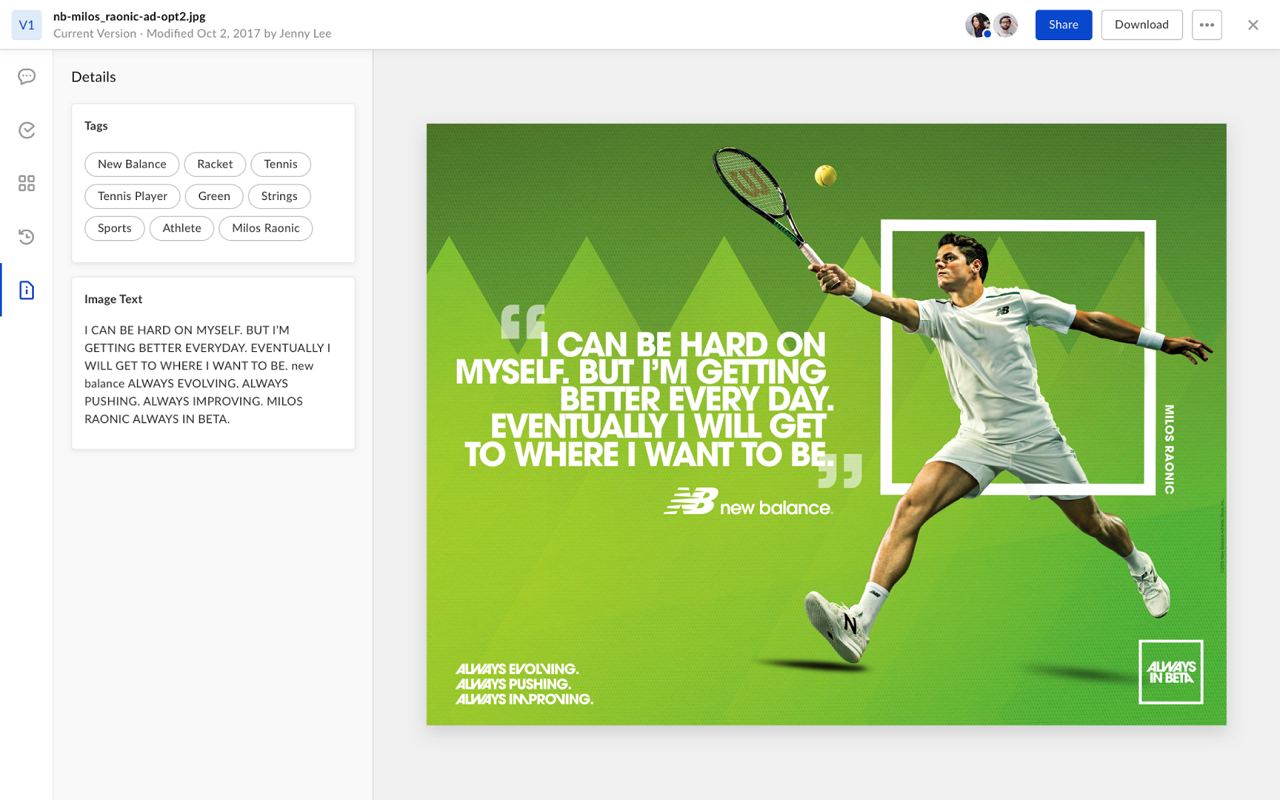 Audio
The example below shows how using IBM Watson, audio files stored in Box can be scanned for keywords and sentiment. The audio can be transcribed, and people can jump to any of the indexed times in the recording.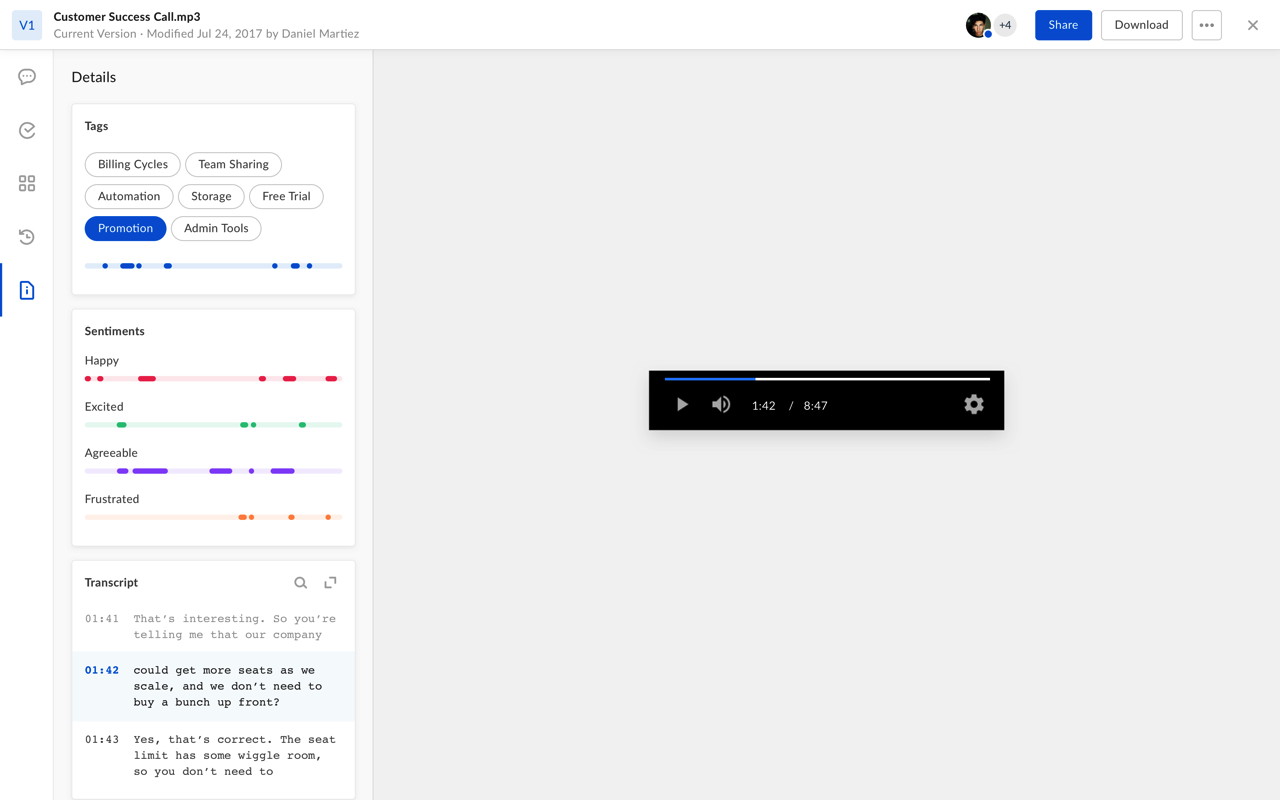 Video
The example below expands upon the audio use case, showing how video can also be indexed. In addition to pulling out keywords, facial recognition can identify specific people and provide navigation through a video based on faces. I have been using similar functionality in Microsoft Stream and it can make a dramatic difference in the way you view content, enabling you to focus on the areas you want while easily skipping over those you don't.
Conclusion

At last years conference (BoxWorks 2016) Box emerged with a very strong message of evolving from file storage and sharing, to being a platform for building applications. This years event successfully continued that story by introducing future functionality in the form of Box Skills (AI) and Box Graph (analytics). I was very impressed with the customer references and business partner announcements, both of which show that the ecosystem around Box is quite healthy and growing. I would like to see Box innovate more around the way content is created, organized and shared, as the competition in these areas is quite strong. Overall BoxWorks 2017 was an excellent event, and the customers and partners I spoke with are looking forward to getting their hands on the new functionality.
Tweet