Last week in San Francisco, Salesforce held their annual Dreamforce conference. This year's attendance was announced at 150,000 people... regardless of the accuracy of that number, it's safe to say the event is massive. With announcements of new product features (in Sales Cloud, Marketing Cloud, Community Cloud, Service Cloud), new partnerships and ecosystem expansion (Apps Cloud), and new platforms (IoT Cloud powered by Thunder) there is far too much news to cover in one post. Luckily, Salesforce does an excellent job at making video replays of the keynotes available, so you can catchup on anything you missed. Also, at the end of this post I have provided links to several posts written by my colleagues that provide excellent analysis.
For this post, I've chosen to focus on the following three key announcements, and how they contribute to improving the way people get their jobs done.
1. The new Salesforce Lightning User Interface
2. SalesforceIQ for Small Business and SalesforceIQ for Sales Cloud
3. Future Integrations With Microsoft Productivity Applications
Modernizing The Look, Improving The Usage
While Salesforce introduced several new features, perhaps the most significant announcement was the updating of the Salesforce User Interface (UI) with what they call the new Lightning Experience. Forget about the new name and marketing, what this really means is that the almost decade old look of Salesforce has now been updated with a much more modern style. Icons for key product areas are now available down the left side, and the main screens have been redesigned to provide more information in the centre along with supporting information in a sidebar on the right side.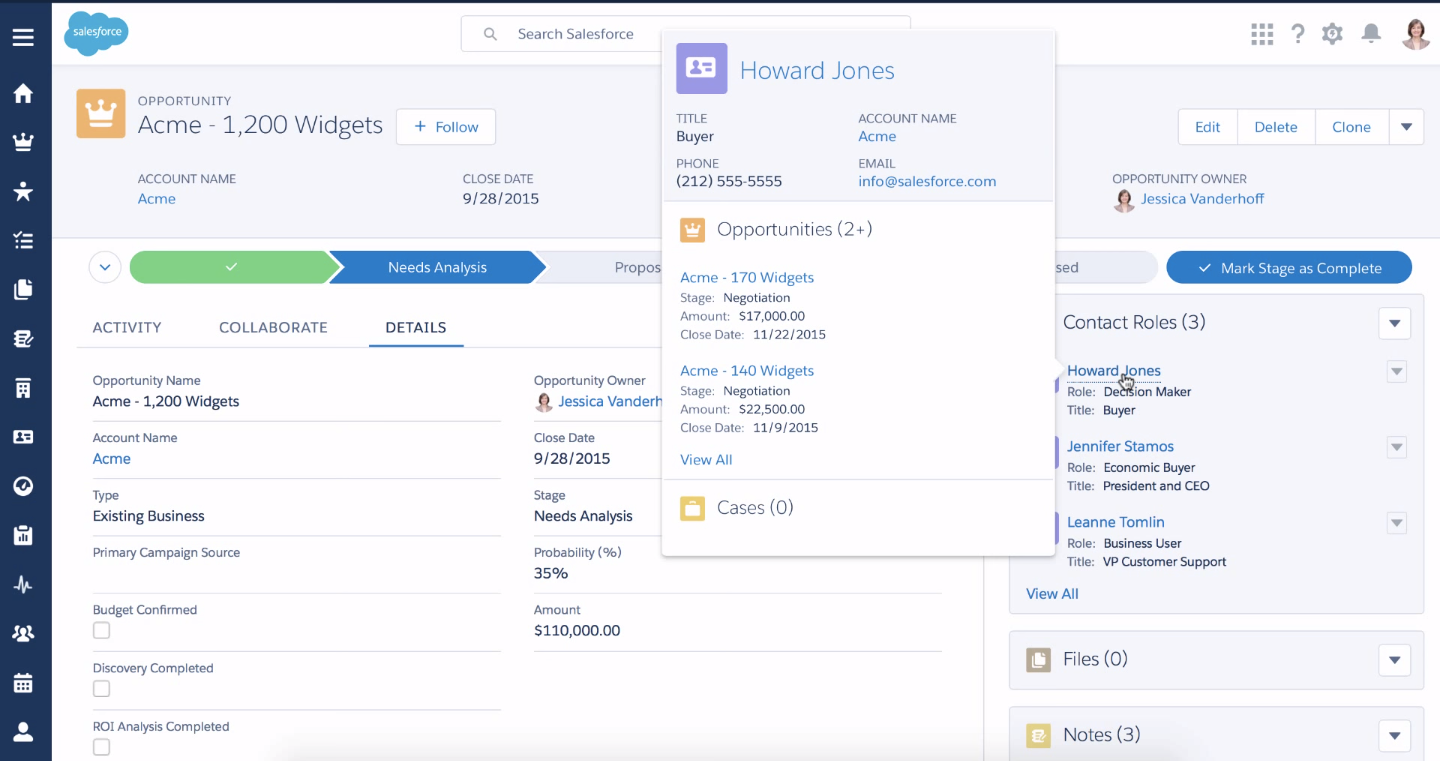 Employees will most likely welcome this new look, but it will take a little while to get used to. Customers should not worry about additional training costs, as Salesforce provides several resources to get people up and running quickly, such as this short overview video.
Linking Data, Finding Patterns and Making Recommendations
For me, the most interesting announcements of the week centered around the rebranding and evolution of RelatedIQ (acquired July 2014) into SalesforceIQ. What this tool does is bring "intelligence" into the sales cycle. By intelligence, Salesforce means linking together your email, calendar, personal contacts and company's CRM data, then looking for patterns and making recommended actions that could help speed up the sales cycle. For example, SalesforceIQ can help you find the people in your organization that may already be connected with a prospect listed in your pipeline. Also, SalesforceIQ introduces a new inbox that links together your email, calendar, files and Salesforce... reducing the need to switch between multiple tools. Rather than me explaining further, watch the follow two short videos:
SalesforceIQ for Small Business
SalesforceIQ for Sales Cloud
I really like the direction SalesforceIQ is going in. As my readers know, I am very focused on the intersection of analytics and collaboration, looking at ways data can be used to help people focus on the right things and connect with the right people. This is exactly what Salesforce is starting to do. Additionally, Salesforce also recently acquired Tempo.AI (smart calendar) but that has yet to manifest itself in SaleforceIQ. For now, SalesforceIQ is focused on sales use-cases, I look forward to seeing if they bring similar "intelligence" to Marketing, Community and Service clouds.
Caution: Speaking with several people at Dreamforce, there is some confusion between the two versions. When should a company use the SMB version, and when should they move up to the Sales Cloud version? Why even have the two versions? Will there be feature parity between the two? Salesforce has attempted to answer some of these questions in a FAQ, but I think it will be a while until this is al clearly understood. Pricing for SalesforceIQ starts at $25/user/month, but quickly jumps to $65, $125 or $250 depending on the features you need.
Seamless Collaboration and Business Processes
The third big announcement that will impact the daily use of Salesforce is the upcoming integration with Microsoft's collaboration and productivity tools. While today there is integration with Outlook, Excel and a few other products, Microsoft and Salesforce have vowed to further integration between their two industry leading platforms.
I've already written about this announcement in detail, but the four areas they have placed onto the 2016 roadmap are:
- Skype for Business, providing presence awareness inside Salesforce and allow for seamless web conferencing, chat and VOIP calls
- OneNote, enabling note taking to be linked directly to Salesforce records
- Office Graph and Office Delve, so surface Salesforce content inside Microsoft's new search and discovery UIs
- Salesforce1 Mobile App for Windows 10
Here is short video that talks about the planned integrations.
Helping People Get Work Done
Over the last few years Salesforce has evolved dramatically from a company that helped Sales Reps keep track of their deals to a platform that supports several business functions (such as Marketing, Support, Community) and thousands of partner applications. Each of the announcements above support the idea of improving the way people get their jobs done. From a fresh new user interface, to leveraging data to make informed decisions, to integration with the most popular productivity tools... Salesforce is focused on helping people get work done.
Additional Resources
Salesforce Evolves Communities From Forums To E-Commerce, by Guy Courtin and Alan Lepofsky
Dreamforce 2015: Value for customers - but some concerns on direction, by Holger Mueller
Salesforce IoT Cloud Awaits Thunder Real-Time Engine, by Doug Henschen
Salesforce Unveils Breakthrough IoT Cloud, Powered by Salesforce Thunder, by Holger Mueller
Salesforce Unveils Breakthrough Salesforce IoT Cloud, Powered by Salesforce Thunder, by Dr. Natalie Petouhoff
Salesforce Makes Wave Analytics More Accessible, Affordable, by Doug Henschen
Dreamforce: Salesforce Unveils the Next Wave of Salesforce Analytics Cloud, by Holger Mueller
Tweet